National Training Center Poprad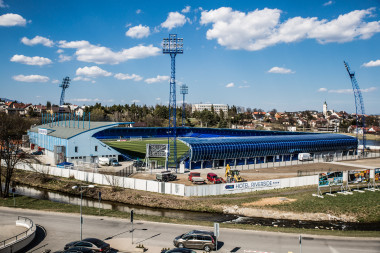 The first phase of the National training centre (NTC) of the Slovak Football Association (SFZ) was initiated in 2011, when it was completed reconstruction of the original stand of Poprad football stadium. There was built exceptional pitch heating system, which through the medium of the geothermal water heats from the nearby aquapark. Within the reconstruction of the stands there was also installed the new floodlights with four levels of intensity, whose capacity exceeds required standards for international matches on television worth 1400 lux.
As a part of the first phase of reconstruction the NTC offers also accommodation facilities with the capacity of 39 beds. Part of this building is also restaurant with capacity for 32 persons. During the second phase the completion of all missing stands around the pitch increased capacity of stadium to 5700 spectators. As the next step there is a plan to bulid additional training fields with natural and artificiall surface.
NTC Poprad serves for national teams of Slovakia. In this beautiful foothill scene they find ideal conditions during their training camps, but also qualifying or friendly matches. First class training conditions and excellent regeneration in aquapark, which is situated next to the NTC. It offers superior conditions for those interested in training stays not only from Slovakia, but also from abroad. The package of services offered by full service resort with accommodation, meals, regeneration until the complete ensure training process and friendly matches.
Stadium has modern conference rooms, suitable for organizing congresses, conferences and courses. In the VIP section, that is connected with restaurant is possible to organize formal and informal meetings with top quality services.
AquaCity Poprad – Regeneration and Leisure
AquaCity Poprad resort is located directly under the High Tatras and offers exclusive accommodation complex, congress, recreation and restaurant services.
Ideal relaxation you can enjoy the 7 outdoor and indoor thermal pools and 6 swimming pools with total water area of over 3300 m2 and temperature of 28 °- 38 ° C. The facility is located 50 m indoor swimming pool, year-round outdoor swimming pools with more than 350 water attractions and water slides, summer pool complex Mayan pyramid with slides and children´s attractions, exclusive Blue Diamond indoor pools with beverage bars, Blue Saphire relaxation pools with evening laser show and chromo therapy (light therapy) and new children´s world of treasure Island – Treasure Island. In 2015 the Aquapark opened the largest double-deck Wellness Centre Fire & Water Wellness & Spa in the style of fire and water. In addition to relaxation and wellness services, also it offers accommodation right in the area in two luxury hotels Seasons*** and Mountain View **** or in a new Riverside Hotel ***, which is part of the National Football Training Center of NTC Poprad, conferences and meetings facilities, Kryocentrum, relaxation – massage center, thai massage, fitness, spinning and cardio center.
RELAX
AQUAPARK Poprad – waterworld under High Tatras
9 outdoor and indoor thermal and realxing pools
350 water attractions (massage jets, whirlpools, beads, mushroom watre fountain)
- 3 outdoor thermal pools ( 28°- 38°C ) with whirpools and water at tractions (swimmming, seating and realxing)
- indoor relaxing pools Blue Sapphire with chromotherapy and evening 3D Laser show
- indoor luxury pools Blue Diamond with beverage bars
- children pools Treasure Island (pools with salt water, foundering ship, slides and attractions, whirlpool for adults, terrarium with leguans) NEW
- 50m swimming pool and steam saunas NEW

ACCOMODATION
Accomodation, Restaurants and bars
Hotel Seasons***, Hotel Mountain View****, Hotel Riverside***
- luxury accommodation in comfortable rooms with ALL INCLUSIVE in the price
- breakfast and dinner buffet
- unlimited acces to Aquapark, Fire&Water Wellness & Spa
- local taxes, guerded parking, internet
Restaurant HighTatras, Restaurant Riverside– Slovak specialties and international cousine
- Lighthouse & Fresh bar - stylish self-service restaurant offering fine and healthy meals and drinks NEW
- Cafe & Wine bar - luxury coffee shop and wine bar, musical evenings, wine sales
- Lobby bar - lobby bar with terrace with High Tatras view
- water bars in Aquapark – Blue Diamond, Blue Sapphire, Fire&Water bar

WELLNESS & SPA
FIRE & WATER WELLNESS & SPA
- The largest two-storey wellness center in Slovakia 1590 m2
- Vital world fulls of contrasts in the sign of the elements of fire and water, divided into a private and party zone
- Private swimming pool, whirlpools, 8 saunas and inhalations (ceremonial sauna, salt, mint, dry, infrared sauna)
- ice cave, leisure and party room with waterbeds
- 14 m wellness bar with trendy offer of cocktails

FUN
Animation and entertainment attractions
- animation and children's party with mascots Oskar, Olivia and Lilly
- children playground, evening kindergarten
- adrenaline and entertainment attractions, aqua aerobics, weekend programs
- 3D Laser show - every evening themed laser show in swimming pools Blue Sapphire (James Bond, Michael Jackson, Slovakia, Pirates of the Caribbean, Kids' show, Evolution)

SPORT AND HEALTH
Fitness, Kryocenter and spa procedures
- Kryocenter – treatment of cold temperatures of -120°C
- Relax-massage center and spa procedures, solarium, manicure, pedicure NEW
- Thai massage center
- Fitness, spinning, kardio center
- 50m swimming pool and steam saunas

The NTC Poprad is located in beautiful north slovakian town Poprad.
Near the city center and disposes with excellent access from highway and seamlessly traffic. International airport Poprad-Tatry is located only 10 minutes from NTC. The High Tatras Mountain offers relax opportunities, but also high elevation environment, excellent for enhancing high standard of fitness abilities. Hypoxic environment contributes to faster development of aerobic lung capacity by adaptation of the cardiovascular system and neuromuscular coordination. That ensures better preparation for sportsman in competitive conditions and sport performance.
City of Poprad (55 000 citizens) location, with its social and sports facilities, is excellent place for relax, cultural and sport activities. International sport events in football, ice hockey, tennis and volleyball are organized here on regular basis. There are also many cultural events organized in theaters, shopping centers or town squares.
Visitors can find a place for relaxation in renovated city center of Poprad, in oldtown district Spišská Sobota and in High Tatras - just 10-minute drive by car. You can find golf courses, tennis and badminton courts and number of ski resorts in accessible distance. Using of those facilities is also in NTC offer. More information about town and locality you can find on webside www.poprad.sk and www.visitpoprad.sk.